One of the best ways to get your starter $1,000 emergency fund funded or get your debt snowball rolling is to have a garage sale. With spring in the air, now is the perfect time to clean house of items you are not using anymore as well as pad your bank account.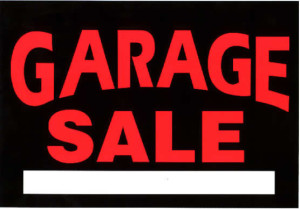 If we are honest with each other we know that we have stuff in our house that we do not use that is just sitting there taking up space. Whether it be old clothes we do not wear or cannot fit into anymore, or all those DVD's that we do not have time to watch anymore, or our kid's old toys that they have not played with in a year. In addition, that stuff is part of the reason we are in debt in the first place- stuff we do not need but talked ourselves into buying anyway. So by having a garage sale you can kill two birds with one stone; get rid of things in your house and knock off your debt. My friend Jenny McCutcheon from Ex-Consumer.com wrote a great article last year on how her family made over $1,000 in one weekend of garage selling and is full of tips and advice.
I know it is hard to get rid of stuff. We rationalize keeping our stuff by saying, "I'll use it later," but let's be honest; you probably won't use it. But what better way to make a statement to your family, friends, and yourself than by dumping stuff to help you dump your debt?
Have you had success with garage sales in the past? If so, what were some of the keys to making it worthwhile and what did you use the money on?
To receive notifications of new posts, please

join our email list

or visit our

subscription

page
To learn how JW's Financial Coaching can give you a new perspective on your money please visit one of the following links: