Podcast: Play in new window | Download
Highlights of today's show:
The Daily Habits of Wealthy People
Discuss research found in CFP Tom Corley's book Rich Habits
Being wealthy is about making daily habits
Those habits aren't anything special or secret
What habits do you need to develop?
Ever since I read the book The Millionaire Next Door by Dr. Thomas Stanley I have been fascinated with the habits of the wealthy. So I was pretty excited to come across an article on Yahoo the other day profiling Certified Financial Planner Tom Corley and the research he did on the habits of the wealthy. You can read all of Corley's research in his book Rich Habits: The Daily Success Habits of Wealthy Individuals but today we focus on four main habits that the wealthy have.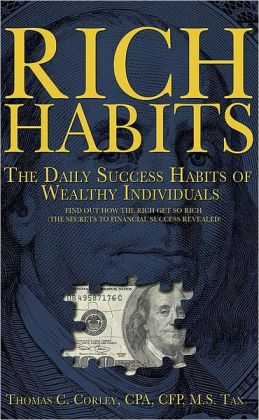 1. Rise Early-You might not be a morning person, but don't get hung up on that. Instead focus on what the wealthy do during this time. They focus on self improvement, educate themselves by reading, and work out. You can do that any time, but notice that no matter where they are financially, they are still investing in themselves.
2. Keep a to-do list-I am huge on goal setting and the wealthy seem to spend time doing  a goal list in both the short term and the long term. Setting goals allows you to prepare for the future by taking a big task and breaking it down into smaller action areas to help reach your goal.
3. Live Healthy-To me there are a lot of correlations between living healthy and managing your money well. Also I have found that when you are struggling with your health, you don't have as much energy to work on your finances and you medicate your pain by impulse shopping. But Corley found that for wealthy people being healthy meant making more money.
4. Limit non-productive time-Corley found that wealthy people spend their down time networking and volunteering while those who are struggling financially spent more time on the Internet and on Facebook.
To sum it up, what I took away from the research was that wealthy people invest in themselves, set goals, live a healthy lifestyle, and are productive. That doesn't sound like anything that you or I can't do. In fact it seems pretty doable. Granted, doing those four things won't automatically make you a millionaire. But it makes you realize that building wealth is more about daily decisions than anything else.
"I realized, it's not so much what's going on in business, it's the daily habits, the activities, that are the reason for your wealth or your poverty," ~ Tom Corley
I also have special news for those listeners who have an iPhone. The JW's Financial Coaching app is now available to download. The app allows you to choose a lesson, view its show notes and listen to the show, all right from your iPhone without having to browse the web.
You can subscribe to future podcasts through Feedburner, Stitcher SmartRadio, or iTunes. Or you may listen to the podcast on the JW's Financial Coaching Facebook Fan page. In addition, if you have enjoyed the show for a while now, please leave a review of the podcast on iTunes. For a step by step video of how that works, please watch this video on how to leave a review in iTunes.
If you have any comments, questions, or ideas for future shows you can send them to me and I will integrate them into a future show. There are two ways to get in touch with me: 1.) Email me at JWFinancialcoaching@gmail.com – Please put "podcast" in the subject line and keep your questions brief so they are readable on air. 2.) Simply fill out the form on the contact page. Please fill out your name, email, and your question/comment/suggestion and we will read it on air.
You can find prior editions of the podcast at the podcast archive page.